Description
Condition: This sculpture is in a perfect condition
Bronze Dimensions with Marble Base:
Height 23" X Width 26"
Marble Dimensions:15" X 8"

Height without base:22"
Weight:34 LBS
Inventory:315706217331


The iconic Bronco Buster is renowned as America's most famous piece of art, presented by Frederic Remington as a gift to President Theodore Roosevelt. With its rich history, one of the original bronzes bearing the stamp [Casting No.] 37 fetched an impressive $222,300 at the Coeur d'Alene Art Auction in 2012. As Remington's inaugural bronze sculpture, the Bronco Buster stands as a powerful symbol of triumph and heroism in the American West. Its exquisite detail and skillful depiction of dynamic movement and balance exemplify Remington's artistic prowess.
At World of Bronze, we strive to capture the essence of Remington's original vision in every aspect of casting this remarkable sculpture. Our dedication to quality is evident in the meticulous craftsmanship of our bronze sculptures, which have even been chosen as State gifts for leaders of other nations. Each piece is individually handcrafted using the "Lost Wax Process," guaranteeing the highest quality at the most affordable prices. This ensures that our bronze sculptures can be cherished and passed down through generations, representing a lasting and unique work of art.
This new handmade reproduction of the Bronco Buster is crafted in solid 100% American bronze, featuring magnificent hand-applied patina finishes that create natural variations in texture and color. Meticulous hand-rubbing brings out the incredible detail and highlights, culminating in a sculpture that is truly original. The statue is mounted on a high-quality black marble base, elegantly showcasing an etched brass plate bearing the artist's name and the statue's title. With its striking beauty and lasting craftsmanship, this statue pays homage to Remington's legacy and will be a cherished addition to any art collection.
Please note that due to the nature of the process, no two statues are exactly alike, further enhancing the uniqueness and authenticity of each piece. Experience the magnificence of Remington's Bronco Buster brought to life in this exquisite 100% American bronze sculpture, mounted on a beautiful marble base and signed Fredrick Remington.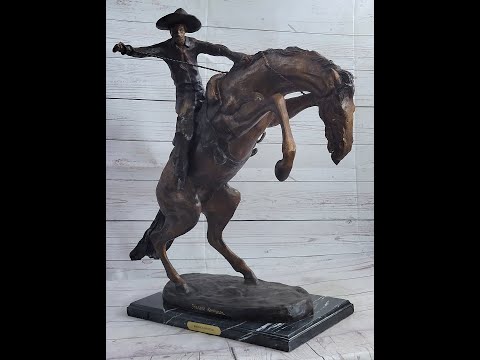 Bronco Buster Frederic Remington Bronze Statue Cowboy Horse Western 24\" x 26\" 57062
Video will open in a new window
Using the eBay App? Paste link into a browser window: