Description
Condition: This sculpture is in a perfect condition
Bronze Dimensions with Marble Base:
Height 10" x Width 4"
Marble Dimensions: Diameter 4"

Height without base:9"
Weight:4 LBS
Inventory:14YRD026-72341


Introducing this captivating bronze sculpture featuring the iconic Lady Justice, also known as Blind Justice, embodying the virtues of fairness, impartiality, and truth. Inspired by the Greek goddess Themis, this exquisite depiction portrays her in a powerful and symbolic stance. In one hand, she firmly holds the "Sword of Truth," representing the authority and strength of justice. In the other hand, she lifts the scales, symbolizing the balance and impartial judgment.
To ensure impartiality, Lady Justice is blindfolded, a timeless representation of fairness and equality before the law. Standing barefoot on the book of law, she signifies the importance of wisdom and knowledge in legal matters. At her feet, a coiled snake serves as a reminder of the complexities and dangers inherent in the pursuit of justice.
With a rich brown patina adorning her figure, Lady Justice exudes an air of solemnity and dignity. Her flowing dress is beautifully rendered in a light green hue, adding a touch of elegance and distinction to the sculpture. This remarkable piece serves as a meaningful and inspiring gift for lawyers, judges, and anyone passionate about the pursuit of justice.
Crafted with meticulous care, this sculpture is made of 100% bronze and created using the esteemed "Lost Wax Method." It showcases the craftsmanship and attention to detail characteristic of the artist Mayer, whose signature adorns this exceptional work of art. Displayed in offices, law firms, or as a centerpiece in your home, this sculpture serves as a timeless symbol of the principles and ideals at the heart of the legal profession.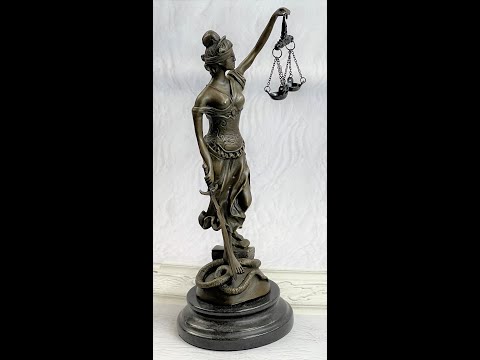 Hot Cast Bronze Signed Mayer Blind Justice Lawyer Office Gift Bronze Sculpture Statue YRD-026-7
Video will open in a new window
Using the eBay App? Paste link into a browser window: