Description
Condition: This sculpture is in perfect condition
Bronze Dimensions with Marble Base:
Height 11" X Width 5"
Marble Dimensions: 3" X 3"

Height without base: 6"
Weight : 6 LBS
Inventory:21AL269B3712


Immerse yourself in the enchanting world of the Birds of Paradise with these exquisite bronze figurines. Perched gracefully on a brown marble base, these captivating finches are a true celebration of nature's beauty. Each bird is adorned with wings crafted from vibrantly colored real bronze, capturing the essence of their vibrant plumage.
Whether you're a nature enthusiast, a passionate fisherman or hunter, or a lover of country living, these figurines make a perfect addition to your collection. They serve as a delightful reminder of the wonders of the natural world and can be a thoughtful gift for anyone who appreciates its beauty.
Embodying the artistry of fine craftsmanship, these figurines are meticulously handmade from 100% bronze. The intricate details and lifelike textures are a testament to the skill and dedication of the artist. With a rich brown patina, the sculptures exude warmth and elegance, showcasing the inherent beauty of bronze.
The lost wax method, an ancient casting technique, has been employed to bring these sculptures to life. This traditional process ensures that every detail is faithfully reproduced, resulting in a truly exceptional piece of art. Resting on a complementary brown marble base, these figurines exude sophistication and style.
Each sculpture bears the hallmark of the artist Milo, adding an extra touch of authenticity and value to these remarkable creations. Whether displayed as a standalone piece or as part of a larger collection, these Birds of Paradise figurines will captivate and inspire all who behold them.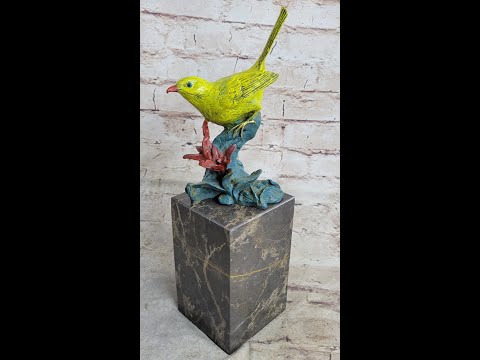 Bronze Metal Colorful Yellow Finch Songbird Bird Sculpture Statue Figurine Marble Base AL-269B
Video will open in a new window
Using the eBay App? Paste link into a browser window: